Charleston Bicycle Accident Lawyer
Have you or someone you love been hurt in a bicycle accident in Charleston, South Carolina? If another person caused you to get hurt while riding your bicycle, the Charleston bicycle accident lawyers at Mickelsen Dalton want to help you get the compensation you deserve for property damage, medical bills, lost wages, and suffering.
Our top-rated bicycle accident lawyers have significant experience handling personal injury claims in Charleston, including those involving cyclists. We understand the issues and have earned a respected reputation in South Carolina for getting results for our clients, even in the toughest cases. We've won millions of dollars for our clients who've suffered injuries across South Carolina. Schedule your free initial consultation now to learn about your legal options.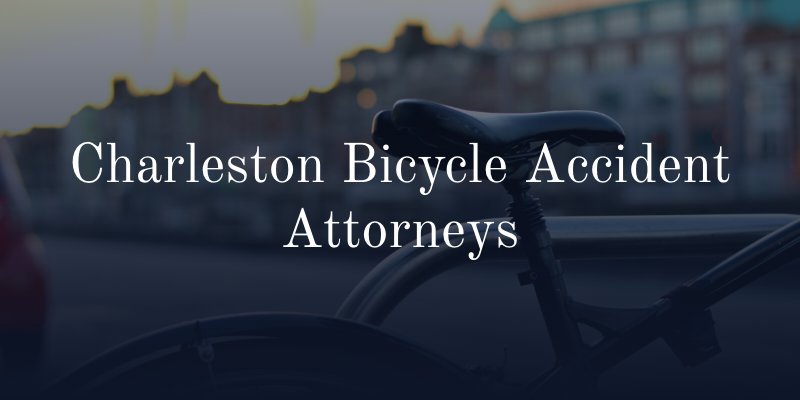 Charleston Bicycle Accident Resources
To immediately access the resources at any point on this page, click the corresponding links below.
Common Causes of Bicycle Accidents
Charleston Bicycle Laws
How Mickelsen Dalton Can Help
What Is My Bicycle Accident Case Worth?
What Kind of Damages Are Available?
Cost of a Bicycle Accident Lawyer
Call an Attorney Today
Common Causes of Bicycle Accidents
Bicycle accidents can occur due to various factors, sometimes causing catastrophic injuries or even fatalities. The following include some of the most common causes:
Failure to yield: One of the most frequent causes of collisions between vehicles and bicycles is a driver's failure to yield at an intersection.
Failure to signal: Additionally, drivers who don't signal their intentions to turn or change lanes can cause accidents with bicyclists. Cyclists need to know what drivers plan to do so they can react appropriately.
Distracted driving: Using a cell phone, fiddling with the radio, or engaging in other distractions while driving can lead to a deadly accident involving a cyclist.
Speeding: Higher speeds increase the likelihood of causing severe injuries in a bike accident. More than just following the speed limit, it's essential for drivers to adjust their speed according to the road conditions, presence of cyclists, and visibility.
Failure to check blind spots: Drivers need to be extra careful to check their blind spots when sharing the road with cyclists. Many accidents happen when drivers overlook cyclists riding on their side or change lanes without proper observation.
Drunk driving: Driving under the influence of alcohol or drugs significantly impairs a person's judgment and driving skills. Drunk driving is entirely preventable, and it's a public responsibility to ensure our roads are free from impaired drivers.
Improper lane changes: Unsafe or abrupt lane changes can quickly lead to accidents with cyclists since they might not have enough time or space to react to the sudden movement.
Dooring: "Dooring" occurs when a parked car's door suddenly opens in the path of an oncoming cyclist. This could lead to severe injuries or force the cyclist into the path of moving vehicles. Both drivers and passengers should look for cyclists before opening their doors.
Potholes: Potholes and other road hazards can be perilous for bicyclists, causing them to lose control and fall or swerve into traffic.
Faulty traffic lights or signs: Malfunctioning traffic lights and damaged or missing signs may create confusion on the roads, increasing the chances of accidents involving cyclists.
Wet or icy roadways: Slippery or icy road conditions can make it difficult for both cyclists and drivers to maintain control, leading to potential accidents. Be cautious and slow down, giving yourself extra space to react.
Poor lighting: Limited visibility during nighttime or in poorly lit areas can make it difficult for drivers to see bicyclists, increasing the risk of accidents. A well-lit bike and reflective clothing can help increase visibility.
Charleston Bicycle Laws
Charleston is an ideal place for biking enthusiasts, but before you start pedaling around town, it's essential to familiarize yourself with bicycle laws to ensure that you're riding safely and legally.
Same Rights and Responsibilities as Motorists: In Charleston, bicyclists enjoy the same rights and responsibilities as motor vehicle drivers. This means that cyclists must adhere to traffic laws like stopping at stop signs, yielding to pedestrians, and riding in the designated direction of travel. 
Lights and Brakes: When riding during nighttime or low visibility conditions, Charleston's bicycle laws require a few essential safety features. Your bike must be equipped with a front lamp that emits a white light and a red rear reflector. Your bike must also be fitted with working brakes
Helmets: There are no helmet laws in South Carolina.
How Mickelsen Dalton Can Help After a Bicycle Accident in Charleston
Facing life after a bicycle accident has the potential to be overwhelming. You need proper time to rest and recover. You certainly don't need to deal with fighting the insurance company. Let us handle it for you. When Mickelsen Dalton takes your case, our bicycle and car accident attorney in Charleston can:
Complete a comprehensive investigation to determine the cause of the bicycle accident
Locate and interview witnesses
Communicate with the insurance company
Negotiate a settlement that covers all of your damages
Provide an experienced trial lawyer for court if it becomes necessary
What Is My Bicycle Accident Case Worth?
The value of a bicycle accident depends on the facts of your case. We will work hard to get you every dollar that you deserve.
Some factors that affect the value of your claim include:
The severity of your injuries
Wages lost due to your injuries
If you share any of the fault for causing the accident
How long your recovery may take
The highest awards are seen in cases where death or severe injuries occur. However, insurance companies do whatever they can to minimize the payout on each claim. Our founding partner is a former defense attorney. This helps level the playing field against their unfair tactics.
What Kind of Damages Are Available to Bicycle Accident Victims?
You may seek damages for any loss related to your bicycle accident. Examples include:
Damage to your bicycle and helmet
Medical care
Lost wages
Out-of-pocket expenses related to your injuries
Disability
Disfigurement
Emotional stress
What Does a Bicycle Accident Lawyer Cost?
At Mickelsen Dalton, we work on a contingency fee basis. There's nothing for you to pay upfront to hire us after your bicycle accident. We are so confident that we'll win your case for you that you don't pay us anything until we do.
Yes, you read that right. If we don't win, you don't pay. Call our Charleston bicycle accident lawyers now to learn more and get started.
Your Trusted Charleston Bicycle Accident Lawyers Are Ready to Help
If you or someone you love is hurt in a bicycle accident in South Carolina, Mickelsen Dalton is the law firm you need on your side. We can help you get the compensation you deserve for your injuries. Schedule your free consultation now.