Charleston Boating Accident Attorney
With our coastlines and scenic lakes, it is no surprise that boat sales increased during the pandemic and social distancing. But an increase in boaters means more inexperienced people, creating unsafe conditions on our lakes and waterways. Unfortunately, this leads to an increase in boating accidents.
If you or a loved one have been seriously injured in a boating accident, you need a Charleston injury attorney on your side who understands these types of claims. At Mickelsen Dalton, we have significant experience representing the injured and have dedicated our practice to this pursuit. We handle all claims on a contingency fee basis, meaning we charge no fees unless we win. Call today for a free and confidential case evaluation.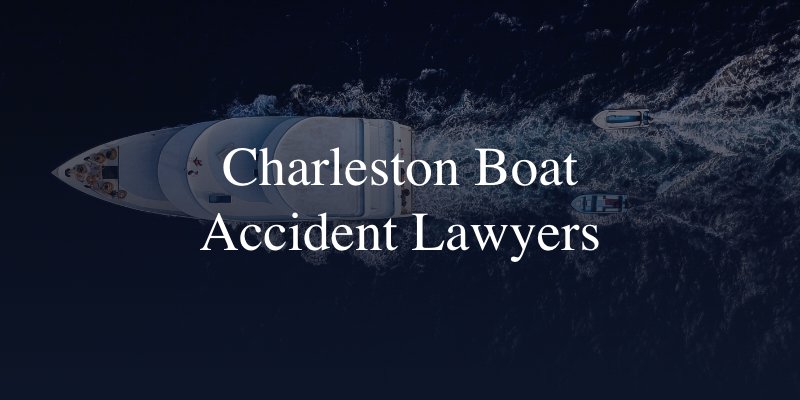 How Mickelsen Dalton Can Help After a Boating Accident in Charleston
Boating accident injuries can range from minor to fatal. In the blink of an eye, your entire world can change. Bruises, whiplash, and burns are some minor injuries that may result from an accident. But we know that your day on the water can quickly become chaos when the injuries are more severe, such as broken bones, lacerations, amputation injuries, traumatic brain injuries, and even death.
We are here to take some of that uncertainty away and fight for justice on your behalf. We have made it our mission to help Charleston injury victims fight the insurance companies who often take advantage of them.
Why You Need a Lawyer For a Boating Accident Injury
Experiencing a boat accident can have devastating consequences. If you've been the victim of such an incident, here are specific steps that experienced lawyers at Mickelsen Dalton can take to help your case:
Initiate Investigation: First, we'll carry out a thorough investigation into the specifics of the accident. This involves gathering essential evidence, including photographs of the scene and injuries caused, obtaining reports from law enforcement or the coast guard, interviewing eyewitnesses, as well as gathering and reviewing evidence of weather and water conditions.
Determining Liability: One of the most complex components following a boat accident is identifying liable parties. This requires extensive knowledge of marine laws and regulations. We'll help determine who (or which entity) could be held responsible for your injuries – maybe the other vessel's operator was negligent, or perhaps there were manufacturing defects in certain parts of the boat you were on.
Speak With Insurance Companies: As you focus on recovering physically and emotionally after this traumatic experience, our attorneys will handle all correspondence and negotiations with insurance companies. This prevents any chance of potential exploitation where they might try to compensate you for less than what you're entitled to.   
Causes of Boating Accidents
The causes of boat accidents are quite varied, but the following are some of the most common:
Operator Inattention: The distraction or inattentiveness of the operator is one of the leading reasons for boating mishaps – they might fail to notice nearby vessels, obstacles, or changes in weather conditions.
Lack Of Operator Experience Or Training: Inexperienced operators can be overwhelmed by challenging navigation scenarios or emergency situations where basic boating safety techniques need implementation for survival.
Speeding: Just like on highways and streets, speeding within waterways increases the risk of a boating accident significantly, as this causes a loss of control over the boat. This leads to serious injuries and possibly even fatalities. 
Intoxication: Alcohol and drug consumption impairs judgment and slows response times, making it another major cause for concern in boating accidents. 
Equipment Failure: Mechanical malfunctions or equipment failure can also cause boating accidents. This could range from engine issues leading to loss of control over the vessel, faulty navigation systems causing misguided paths into dangerous territories, or malfunctioning safety gear which does not protect occupants when disaster hits.
Common Boating Accident Injuries
Boating accidents can unfortunately lead to a range of serious and potentially life-altering injuries. Some of the most common include:
Drowning: This is tragically one of the leading causes of death associated with boating accidents, particularly in cases where passengers are not wearing adequate personal floatation devices.
Head Injuries: These can be caused by falls inside the boat, collisions with other vessels, or being hit by moving equipment on board. Even mild concussions should never be overlooked as they might have a lasting impact.
Fractures and Broken Bones: These can occur due to the force exerted when a boat hits an object or during sudden capsizing incidents. The ribs, arms, legs, and collarbone are particularly vulnerable.
Lacerations And Contusions: Encounters with loose equipment, sharp edges on the boat, or even shattered glass post-collision can cause deep cuts which could lead to excessive bleeding.
Spinal Cord Injuries: Commonly incurred from severe falls or high-speed collisions where passengers get thrown off their seats violently, these injuries have the potential for long-term disability including paralysis.
Who May Be Liable in a Boating Accident?
Legal responsibility in a boating accident typically hinges on the concept of negligence. Boaters have a duty to operate their vessels in a manner that keeps others safe. When they fail to uphold this duty and it causes injury, they may be liable for the damages that victims suffer. Parties who may be liable include:
The operator of the boat that caused the accident, including if they were intoxicated, reckless, or disregarded boat safety laws or regulations
The owner of the boat if they loaned it to someone who was not qualified to operate it or if it was unsafe for operation
A rental or charter company, if the boat was unsafe or improperly maintained
Passengers on the boat if they interfered with the safe operation of the vessel
The boat or parts manufacturer, if a product or boat defect caused or contributed to the accident
Others depending upon the circumstances
The reality is that boating accidents can result in severe injuries that can alter the course of the victim's life. Legally responsible parties may be required to compensate them for all losses, including medical expenses, both past and future, lost wages, reduced earning capacity, emotional distress, pain and suffering, property damage, and much more.
Your Trusted Charleston Boating Accident Lawyers Are Standing By
Mickelsen Dalton is ready to help you prove that somebody else's negligence caused your boating accident. We believe in helping boating accident victims get compensation for their injuries because of another person in Charleston. We can help fight for you. Schedule your free consultation now with one of our boating accident lawyers and learn how we can help you.