Do I Need a Lawyer For a Truck Accident Claim?
Following a truck accident, you might find yourself facing not only physical injuries but also the prospect of filing an insurance claim or possibly even a lawsuit in some cases. The question often arises – do you need legal representation to handle matters related to a truck accident claim, or can this job be done effectively on your own? While you can technically handle these situations on your own, you're always better off working with a truck accident attorney.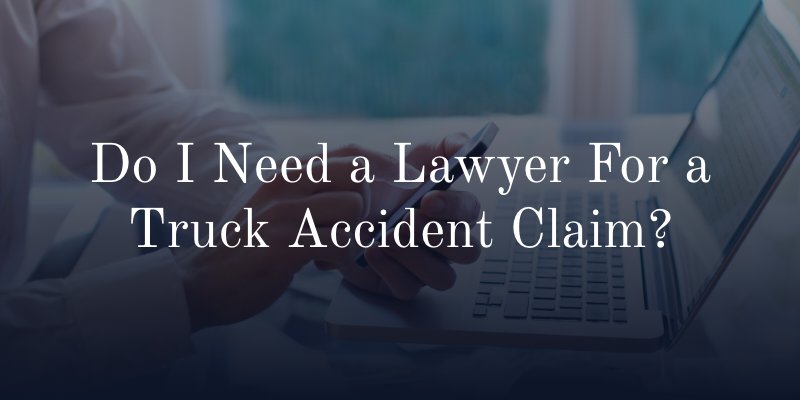 Truck Accident Cases are Complex
Truck accident cases are not easy to deal with, for a number of reasons. One primary reason is that multiple parties can be held liable in a truck accident — including not just the truck driver but potentially also the company they work for, third-party contractors involved with loading their cargo, and manufacturers responsible for faulty parts. This requires handling different insurance policies simultaneously which can complicate matters when trying to negotiate an acceptable settlement.
Trucking Laws Are Different
On top of complex liability issues is the regulatory landscape governing the operation and oversight of these commercial vehicles. Trucking companies are required to conform to federal and state regulations regarding aspects such as weight limits, logbooks, rest breaks, and more. It's essential to work with a lawyer who understands these regulations and knows how to spot violations, which can help significantly in your claim.
Gathering and Analyzing Evidence Can Be Difficult
Evidence forms the foundation of every successful personal injury claim or lawsuit. For truck accident cases, this might include obtaining driver's logs, maintenance records for the vehicle involved in the collision, and unbiased eyewitness testimony, among other things.
Analyzing and obtaining these crucial pieces of evidence is not something an individual should undertake alone. Lawyers have specific expertise and resources available to them enabling them to get the necessary evidence and interpret it appropriately.
A Lawyer is Essential to Properly Calculate Damages
Calculating how much your claim may be worth following a truck accident isn't always an easy task, as the extent of damages incurred can be both immediate and long-term. This assessment involves an evaluation of current and future medical expenses, current and future lost wages, along with property damage and intangible damages like pain and suffering.
Evaluating such complex factors appropriately should be done with professional help to ensure you are maximizing your monetary award.
Your Case May Go To Trial
In some situations, your case may not reach a settlement during negotiations and instead proceed to trial. If this happens, you'll want to have an experienced trial attorney who knows how to effectively present your case before a judge or jury. This is not something that can be handled effectively by someone without legal training.
You Don't Pay an Attorney Unless They Win
One of the biggest concerns accident victims have about working with a lawyer is the cost. It's essential to understand that almost all personal injury attorneys work on a contingency basis – they don't receive payment unless they secure compensation for damages sustained from the accident. If you don't get paid, they don't get paid.
This model eliminates the upfront financial burden on your shoulders, as you won't have to pay out-of-pocket legal fees. Instead, their fee would come from a percentage of the settlement or verdict amount they secure on your behalf.
Whether filing insurance claims or taking matters to court, having an expert on your side who knows the ins-and-outs of this intricate area of law will ensure that your rights are protected while giving you valuable peace of mind during your recovery.
For help with a truck accident or related claim, contact us to schedule a free consultation.