How a Lawyer Can Help with a Spinal Cord Injury
Spinal cord injuries are among the most severe and potentially life-changing incidents an individual can endure. They often result in substantial physical, emotional, and financial burdens – rendering everything from basic movement to routine daily tasks a significant challenge.
Such injuries can leave victims with temporary or permanent paralysis, numbness, chronic pain, and even problems relating to respiratory function or bladder control which fundamentally alters one's lifestyle not just for the patient but their family.
In these challenging times, it's crucial to have skilled legal support on your side. If you believe your injury was caused by someone else's intentional or negligent conduct, here's why you need a personal injury attorney and how they can help.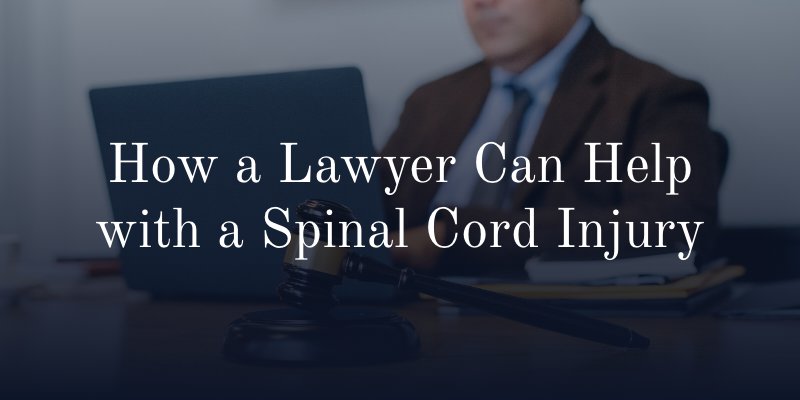 High Cost of Spinal Cord Treatment Makes a Lawyer Essential
Reasons for consulting with a lawyer on spinal cord injury cases primarily revolve around the enormous financial impact such injuries have on your life. With a knowledgeable attorney, you're better equipped to recover compensation that addresses immediate and long-term expenses:
High Initial Costs: Spinal cord treatment often involves costly surgeries and lengthy hospital stays, which can burden victims with heavy medical bills.
Long-Term Expenses: Rehabilitation services like physical therapy or medical equipment require financial resources unavailable to many without settlement claims aiding their access.
Indirect Implications: Trauma from spinal injuries could extend beyond healthcare costs and can involve lost wages and costs for mental health treatment.
A Lawyer Can Help Establish Liability
Navigating a spinal cord injury case necessitates an in-depth understanding of the potentially negligent parties and the causes behind it. A skilled lawyer plays a crucial role in helping victims establish liability. Here's how they do this:
Identifying Legal Grounds: Sorting out complex legal matters requires extensive experience in personal injury law. A lawyer can help make sure you have a valid claim that can be filed.
Thorough Investigation: Your attorney will be responsible for conducting comprehensive investigations into the circumstances surrounding your spinal cord injury. This can include analyzing medical records, evaluating safety protocols (if applicable), and consulting experts to determine whether negligence occurred.
A Lawyer Will Help Negotiate With Insurance Companies
One of the most significant benefits of hiring an attorney for your spinal cord injury case is their ability to effectively negotiate with insurance companies on your behalf.
Insurance companies primarily seek to minimize payouts which often undermines a victim's needs. They may employ tactics like disputing liability, downplaying your injuries, or pushing for quick settlements with low compensation.
A skilled attorney can navigate these challenges and skillfully negotiate a fair settlement. Their extensive knowledge of the law enables them to counteract any unreasonable arguments made by insurers.
A Lawyer Can Provide Emotional and Psychological Support
A lawyer can significantly help with a spinal cord injury by providing assistance beyond just the legal aspects, ensuring that you receive the emotional support needed to navigate this challenging situation.
An experienced Charleston spinal cord injury lawyer will have an understanding of the emotional and psychological impact that a spinal cord injury can have on your life. They empathize with your situation, allowing them to provide compassionate guidance throughout the legal process.
Although attorneys are not mental health professionals, they can play an essential role in connecting you with resources and making recommendations for appropriate care.
Obtaining experienced legal representation can make all the difference when it comes to navigating such complex cases. If you need help, don't hesitate to contact us to schedule a free consultation.