What To Do After a Slip and Fall Injury
When you experience a slip and fall incident, the aftermath can be chaotic and confusing. It's crucial to regain composure quickly as any actions you take after the accident may significantly affect any legal claim you decide to pursue later. Here are the most important things you can do after your slip and fall injury.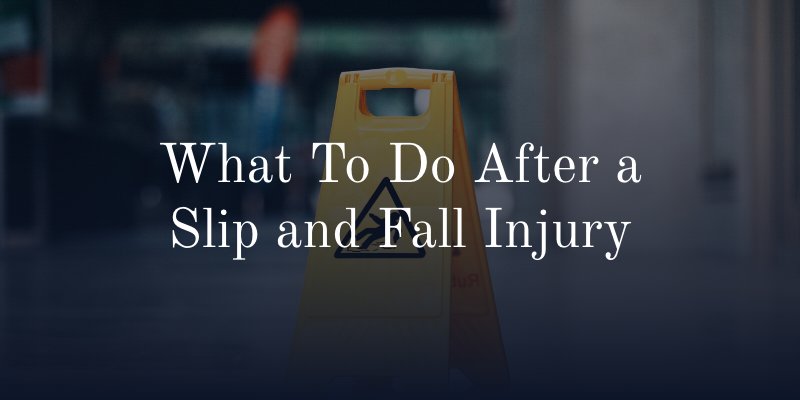 Assess Your Physical Condition
Immediately after the accident, take a moment to assess your situation, including your mental and physical health. It's paramount not to ignore any visible wounds or discomfort you might be feeling.
Keep in mind you may be in shock during this time, impairing your ability to judge the gravity of possible injuries. Therefore, it is recommended that you seek immediate medical attention as soon as possible following a fall.
Document the Scene
Once initial safety concerns have been addressed, make sure your next steps involve documenting and photographing every detail concerning your accident before leaving the scene if you're well enough to do so.
Familiarize yourself with the layout of the premises and take note of anything unusual that could have caused or contributed to the incident such as wet flooring or broken handrails.
Having photographic evidence can significantly strengthen any legal claim later on.
Report the Incident
The moment you can safely do so, report your accident to the person responsible – property owner, store management, or equivalent authority. They should acknowledge the incident in writing to legitimize your claim further down the line. Property owners in South Carolina have a duty of care to prevent harm on their properties.
Keep a Detailed Record
It's essential that you keep a record of events preceding and following your fall. This would include noting any injuries no matter how minor they may appear, along with the date and time the accident happened. Also, make sure you keep track of all medical appointments attended and what treatment was administered.
Keep all financial records and medical documentation such as prescriptions and invoices. These serve as evidence for your case demonstrating not only the injuries you sustained but also the financial burden it caused.
Stay Consistent with Medical Treatment
Adherence to all prescribed medical treatments and attending follow-up appointments is critical. Any deviation from advised care routines or skipped appointments leaves room for insurers to argue that the injuries were not as serious as claimed, thereby impacting your final compensation.
Avoid Giving Detailed Statements
Another key point is to be mindful when discussing your accident with others, especially insurance adjusters or property owners aiming to minimize their liability. Avoid discussing details of the fall or making any statement that could be interpreted as admitting fault until you've consulted with a Charleston slip and fall lawyer who has evaluated your situation.
Stay Off Social Media
Related to being careful about who you speak to, it is also crucial that you refrain from making any comments/postings about the incident on social media regarding the accident or your physical health. These posts could potentially serve as ammunition for insurance companies or defense attorneys to dispute your claim.
Consult with a Personal Injury Lawyer
Engaging a personal injury attorney will help level the playing field when you're dealing with insurance companies and lawyers. A legal professional presents a better chance of securing fair compensation on your behalf given their understanding of the law and the tactics insurance companies use to try to avoid liability.
Dealing with such an unfortunate event may seem overwhelming initially, but taking these crucial steps can help you going forward.
For help, contact us to schedule a free consultation with a personal injury lawyer in Charleston.